Evolve, traditional beauty. TOKYO Craftsman Exhibition
Evolve, traditional beauty. TOKYO Craftsman Exhibition
Keyword:
Traditional crafts

Production demonstration

production experience

Seminar

Tokyo

Edo

Engraving

Embroidery

Braid

Mounting

Glass

Silverware

Wooden doll

Chintz

Picture frame
Categories

Events

Shops

Area

Kanto

Tokyo

Period

2021-10-15 11:00 - 2021-10-28 18:00

Venue

Traditional Crafts Aoyama Square
The traditional crafts of Tokyo and the "Youth craftsmen" who will be responsible for the future of traditional crafts will gather at Aoyama Square. Witness the evolution of traditional beauty by youth masters who are fascinated by traditional beauty.
In this exhibition, we will hold a demonstration, production experience (charged), and mini seminar(free participation). Please refer here for details on dates and application for experience.
"TOKYO Craftsman Exhibition" Official Website
https://www.tokyo-kosha.or.jp/topics/2110/0008.html
◆Youth Craftsmen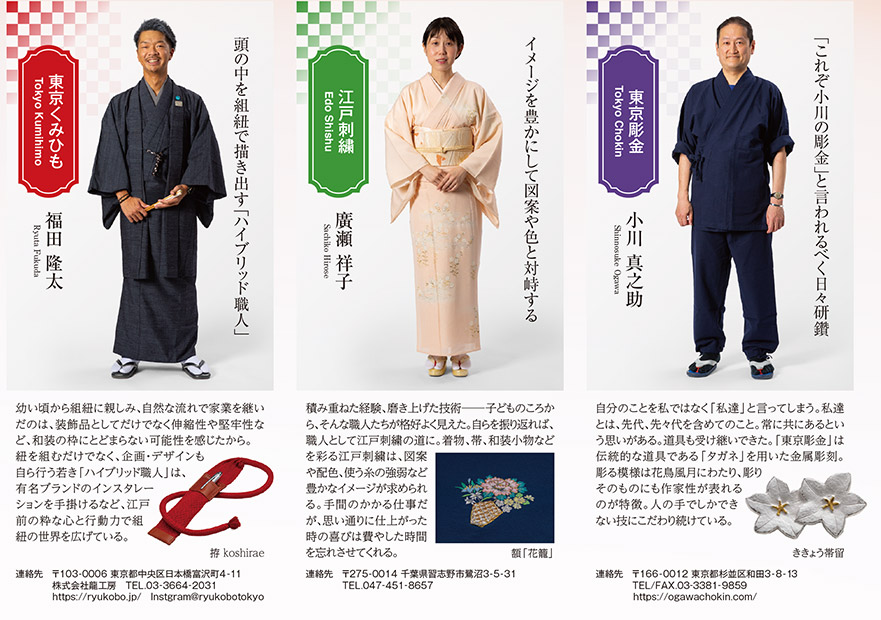 Tokyo Chokin/Shinnosuke Ogawa
Ogawa Chokin (ogawachokin.com)
Edo Shishu/Sachiko Hirose
Tokyo Kumihimo/Ryuta Fukuda
@ryukobotokyo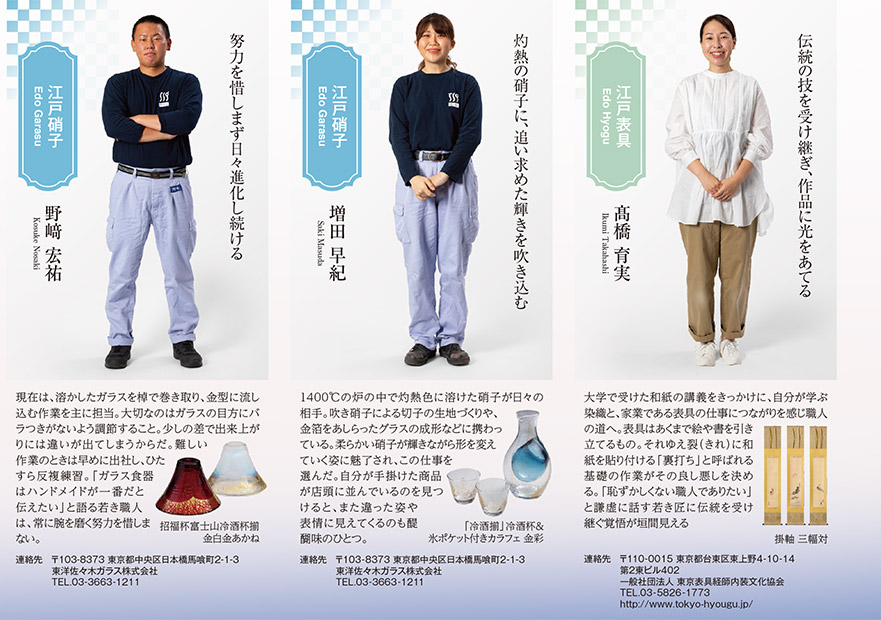 Edo Hyogu/Ikumi Takahashi
@hyougukyouji
Edo Garasu/Saki Masuda
@toyo_sasaki_glass_news
Edo Garasu/Kosuke Nozaki
@toyo_sasaki_glass_news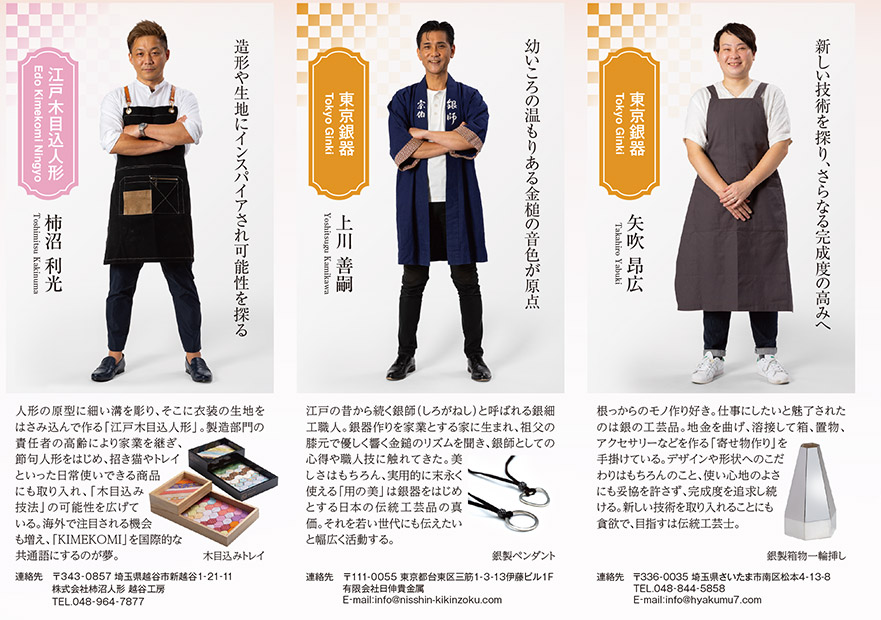 Tokyo Ginki/Takahiro Yabuki
Tokyo Ginki/Yoshitsugu Kamikawa
@nisshin.kikinzoku.official
Edo Kimekomi Ningyo/Toshimitsu Kakinuma
@kakinumadoll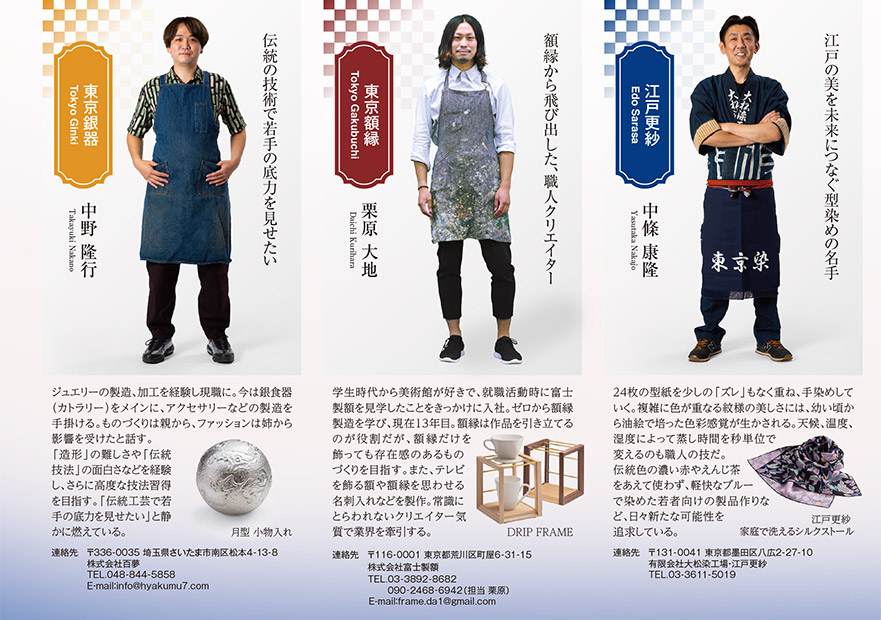 Edo Sarasa/Yasutaka Nakajo
@nakayasu0714
Tokyo Gakubuchi/Daichi Kurihara
@d1_frame
Tokyo Ginki/Takayuki Nakano
*The images shown are for illustrative purposes only.
______________________
◆Demonstration / Production /experience・Mini Seminar
Date:October 15th(Fri) - 28th(Thu)
Reservation of production experience is accepted from October 1st(Fri) 11:00 - only by telephone(03-5785-1301). Please refer the PDF below for schedule details.
【Demonstration/Experience/Mini seminar】TOKYO Craftsman Exhibition Schedule_202110
*In addition, if there is a vacancy in the production experience, you can participate even on the day.
*If the business hours change due to the infection situation, the production experience after 17:00 will be canceled.
*The mini seminar will be held at the exhibition space. No reservation is required and participation is free, so please feel free to join us at the store. Due to the limited number of seats, you may have to stand.
____________________________________________________
*Opening time is 12:00 on the first day and Closing time is 18:00 on the last day.
*Please note that this information is subject to change at short notice. Please check the website in advance before visiting the store.